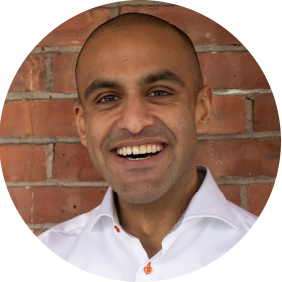 Meet Dr. Bansal, D.C.
Dr. Bansal is a Doctor of Chiropractic who graduated with clinical honours from New York Chiropractic College. He furthered his education extensively with the world-renowned Dr. Andreo Spina, creator of the Functional Range Conditioning System, providing in-depth specific treatment for all musculoskeletal issues.
Dr. Bansal's approach to chiropractic care is very unique.  If you have been to see a Chiropractic Doctor in the past, then this approach will be quite different from what you are used to!  Dr. Bansal takes a much more holistic approach to assessing and treating client conditions, focusing on getting to the underlying cause(s) of a problem.  In addition to the traditional spinal manipulative therapy, Dr. Bansal spends considerably more time working through a proper assessment, providing specific exercises to correct underlying issues, and applying various corrective techniques (based on the Functional Range Conditioning System).
Functional Range Conditioning (FRC) is a system of joint care that is based on scientific research and involves techniques to improve mobility and expand range of motion.  FRS can be beneficial for a wide variety of injuries and dysfunctions, including problems affecting any and all bodily tissues (such as muscles, tendons, nerves, ligaments, joints, etc).  By combining FRC with chiropractic techniques, Dr. Bansal offers his clients a truly unique approach that produces results.
Meet Dr. Bouzane, D.C. ... Starting Jan 2, 2023
Dr. Veronique (Ronnie) Bouzane is a Doctor of Chiropractic who graduated with clinical honours from New York Chiropractic College. Prior to attending NYCC, she studied human movement extensively through a Bachelor of Science in Kinesiology at the University of Waterloo. Her manipulation techniques include diversified, drop table, flexion distraction, and Activator Methods. She has additional training in Functional Integrated Acupuncture, kinesiology taping, myofascial cupping, instrument assisted soft tissue mobilization, and myofascial release therapy. 
Dr. Bouzane's diverse toolbox of skills allows her to create individualized treatment plans specifically tailored to each patient's goals and manual therapy preferences. Active listening is a key component to her practice and she strives for excellence with patient education, helping you to understand the root cause of your musculoskeletal complaint. She is passionate about using movement as medicine and strives for quick results through up-to-date evidence-based practice. She has years of experience working with diverse patient populations including pregnant women, children, and professional athletes. Growing up as a competitive gymnast, a dancer, and a figure skater, she has a personal understanding of the importance of properly rehabbing sport injuries. 
Dr. Bouzane is fluent in both French and English, and looks forward to serving both communities of Greater Sudbury. Her favourite part of practice is brightening people's day with her positive and friendly personality. She welcomes the opportunity to empower you with the knowledge and techniques necessary to manage your musculoskeletal pain. 
Pricing for Chiropractic Visits*
| | |
| --- | --- |
| Initial Visit and Treatment (60 min) | $150.00 |
| Second Visit / Treatment (30 min) | $75.00 |
| Follow-up Treatment (30 min) | $90.00 |
| Follow-up Treatment (60 min) | $180.00 |
| Complementary Meet-and Greet (15 min) | $0.00 |
*Important Notes: 
Chiropractic visits are exempt from HST.
Day and evening appointments are available.
Missed appointments or cancellations with less than 24 hours notice will be billed to your account.
Frequently Asked Questions
Isn't it time to put You first?
705.222.0043

705.222.9685

2-863 Barrydowne Road
Sudbury, Ontario P3A 3T9

Monday-Thursday........ 9:00am-9:00pm

Friday......................... 9:00am-4:30pm

Saturday..................... 9:00am-5:30pm

Sunday....................... Closed